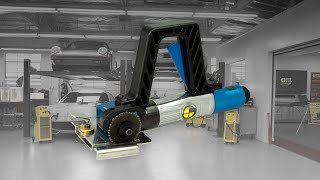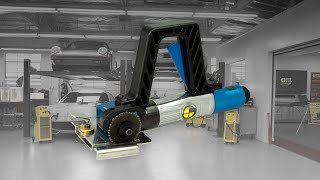 Powerful Panel & Roof Saw
Control the distance away from the edge and cut in a straight line! The DF-PS36 Panel Saw is a powerful saw that quickly and cleanly cuts through sheet metal panels up to 16 gauge. A powerful . horse motor and proprietary hardened steel blade gives the user the ability to cut through virtually any external sheet metal. Light weight, compact design reduces user fatigue and gives the panel saw an added performance bonus: increased stability around tight areas. Double grip handl
Secure the new door skin in place while installing new door skins!
The DF-DSP310 Door Skin Plier is a must have in every collision repair technician's tool box. The Door Skin Pliers are a high quality, adjustable locking clamp specifically designed to hold a door skin in place while allowing full access to the rear door frame flange. Equipped with a large rubber pad on the front to prevent the risk of damaging the front of the door skin. The "T" bar on the rear side of the clamp allows the user to clamp down the door skin and hold it while b
Unique angled arm gives you more contact area on the work surface!
The DF-FBS20 Angled Finger Sander gives you more contact area on the work surface compared to a straight arm finger sander. A specially designed arm, positioned at the perfect angle, allows for more clearance and the finger sander to lay flatter against the surface. The result is a more complete sanding and smoother surface. A light compact design and adjustable speed motor gives the technician more control. A 9", 229mm length arm helps it get into deeper, hard to reach areas